IMMUNÓ PLUS transforms Zynamite® (Mango leaf extract), ginger, garlic and apple cider vinegar into a great tasting, revitalizing energy and immunity drink. Each sachet provides a combination of Vitamin B6, Vitamin C, Iron, Magnesium, Potassium and other nutrients to fuel your body's energy and boost your immune system.
IMMUNÓ PLUS adalah minuman enak hasil campuran Zynamite® (ekstrak daun Mangga), halia, bawang putih dan cuka epal cider yang dapat meningkatkan tenaga dan sistem imuniti. Setiap sacet menyediakan gabungan Vitamin B6, Vitamin C, Zat Besi, Magnesium, Kalium dan nutrien lain yang dapat menjaga keseluruhan kesihatan badan anda
Orange Flavour Effervescent Powder with Zynamite®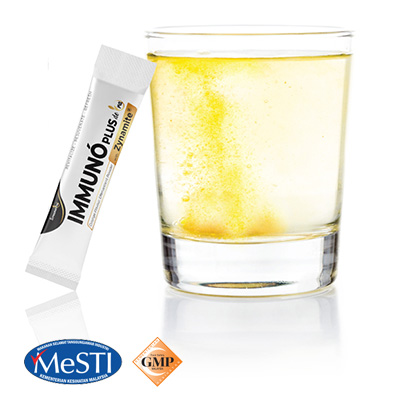 Main Ingredients
Bahan-bahan Utama
Zynamite®
Zynamite® is an award-winning, patented standardized Mangifera indica (Mango leaf) extract. It is a natural ingredient for increasing mental and physical energy while being non-addictive and side effect free.
Zynamite® adalah ekstrak Mangifera indica (daun Mangga), pemenang anugerah yang dipatenkan. Ini adalah bahan semula jadi untuk meningkatkan tenaga mental dan fizikal tanpa ketagihan dan bebas daripara kesan sampingan.
Garlic Extract
Garlic extract helps to lower the risk of heart disease, reduce LDL cholesterol and increase HDL cholesterol. It also helps to reduce triglycerides, blood pressure and prevention of atherosclerosis.
Ekstrak bawang putih boleh membantu menurunkan risiko penyakit jantung, mengurangkan kolesterol LDL dan meningkatkan kolesterol HDL. Ia juga membantu mengurangkan trigliserida, tekanan darah dan pencegahan aterosklerosis.
Ginger Extract
Ginger is a stimulating herb that gets the blood flowing to prevent blood clots from forming and reduces high blood pressure. It's been used to aid digestion and has powerful anti-inflammatory and antioxidant effects.
Halia adalah ramuan perangsang yang membantu aliran darah yang lancar dan mencegah pembekuan darah terbentuk dan mengurangkan tekanan darah tinggi. Ia digunakan untuk membantu pencernaan dan mempunyai kesan anti-radang dan antioksidan yang kuat.
Apple Cider Vinegar Powder
Apple cider Vinegar has various healthful properties, including antimicrobial and antioxidant effects. It could helps to lower the blood glucose, weight loss and boost skin health.
Cuka epal cider mempunyai pelbagai khasiat, termasuk kesan antimikroba dan antioksidan. Ini dapat membantu menurunkan glukosa darah, menurunkan berat badan dan menjaga kesihatan kulit.
Nervous System(Brain, Spinal Cord & Nerves)
Zynamite®, Ginger, Garlic
Enhance Cognitive
Reduce Fatigue
---
Sistem Saraf(Otak, Saraf Tunjang & Saraf)
Zynamite®, Halia, Bawang Putih
Meningkatkan Kognitif
Mengurangkan Keletihan
Integumentary System(Skin, Hair, Nails)
Apple Cider Vinegar
Antioxidant
Enhance Skin Health
---
Sistem Integumen(Kulit, Rambut, Kuku)
Cuka Epal Cider
Anti-radang
Menjaga Kesihatan Kulit
Cardiovascular System(Heart & Blood Vessels)
Ginger, Garlic, Apple Cider Vinegar
Reduce Blood Glucose
Lower Cholesterol
Anti-inflammatory
Anti-cancer Properties
---
Sistem Kardiovaskular(Jantung & Darah)
Halia, Bawang Putih, Cuka Epal Cider
Mengurangkan Glukosa Darah
Menurunkan Kolesterol
Anti-radang
Anti-barah
Digestive System(Stomach, Ssmall Intestine, Large intestine, Colon)
Ginger, Apple Cider Vinegar
Speed Up Emptying of The Stomach
---
Sistem Pencernaan(Perut, Usus Kecil, Usus Besar)
Halia, Cuka Epal Cider
Mempercepat Proses Penghadaman
Immune System(Spleen, Thymus, Lymphatic Tissues)
Ginger, Garlic, Apple Cider Vinegar
Enhance Immunity Health
Anti-inflammatory
---
Sistem Imuniti(Limpa, Thymus, Tisu Limfatik)
Halia, Bawang Putih, Cuka Epal Cider
Meningkatkan Kesihatan Sistem Imuniti
Anti-radang
Musculoskeletal System(Bones, Muscles, Tendons)
Zynamite®
Improves Physical Performance
Post Exercise Recovery
---
Sistem Muskuloskeletal(Tulang, Otot, Tendon)
Zynamite®
Meningkatkan Prestasi Fizikal
Mempercepatkan Pemulihan Selepas Senaman